TGIF Great Quotes for the Best Day Of The Week
The upcoming weekend is almost here and there's no day like a Friday!
After five days of hard work you deserve a break and to forget your work week, we've put together a selection of the best Friday quotes to get you ready for the weekend.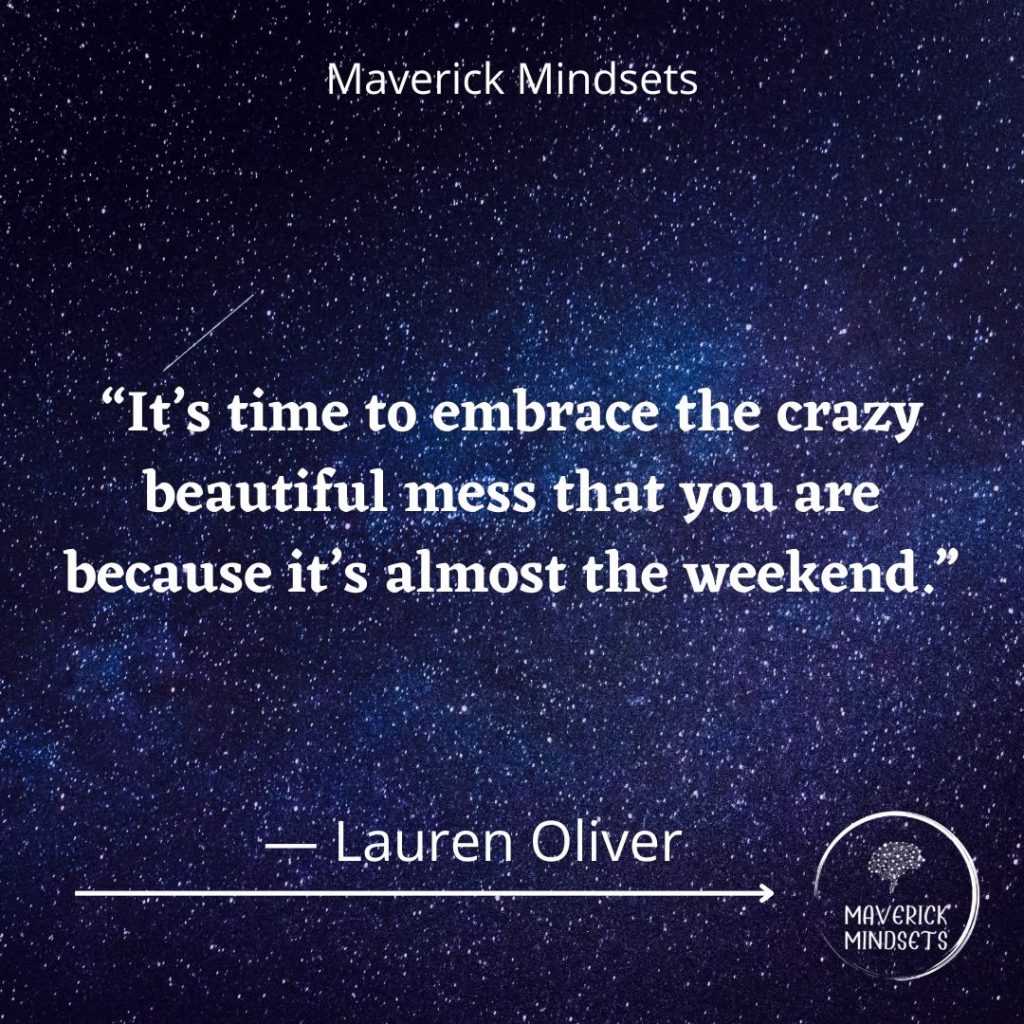 We've got funny quotes, happy quotes and even some that will make you think. 
And when you get that sick feeling in the pit of your stomach when those sunday mornings come back around, don't forget, there's always next Friday!
If you love weekday quotes then be sure to check out our Motivational Monday, Inspirational Tuesday, Workout Wednesday and Happy Thursday quote articles.
"I have never in my life found myself in a situation where I've stopped work and said, 'Thank God it's Friday.' But weekends are special even if your schedule is all over the place. Something tells you the weekend has arrived and you can indulge yourself a bit."
– Helen Mirren
"I believe that it is a mandatory Law of the Universe that on Fridays, you have to do something a little fun."
— Hanna Rhoades
"Oh! It's Friday again. Share the love that was missing during the week. In a worthy moment of peace and bliss."
— S. O'Sade
"Dear Friday, I am ready for all of the adventures that the weekend promises." 
— Unknown
"Friday is like a green light; you speed up until after work and start to slow down once the light turns yellow." 
– Unknown
"Friday is about hanging out with friends, having fun." 
– Rebecca Black
"Friday sees more smiles than any other day of the workweek!"
– Kate Summers
"Friday is my second favorite F word. Food is my first." 
— Anonymous
"I challenge you to let every day be a Friday. Give yourself permission to be happy every day." 
"Man was made at the end of the week's work when God was tired."
– Mark Twain
"If my boss knew how unproductive I am on Fridays, he wouldn't want me here either."
— James Johnson
"Although I understand that all days are equal with 24 hours each, most of us agree that Friday is the longest day of the week and Sunday the shortest."
— D.S. Mixell
"On Friday, I like to high five myself for getting through another week on little more than caffeine, will power, and inappropriate humor."
— Nanea Hoffman
"Fridays are the hardest in some ways: you're so close to freedom."
— Lauren Oliver
"Dear Monday, I want to break up. I'm seeing Tuesday and dreaming about Friday. Sincerely, It's not me, It's you." 
— Unknown
"Friday is like a superhero that always arrives just in time to stop me from savagely beating one of my coworkers with a keyboard."
— Rico
"Some people ask the secret of our long marriage. We take time to go to a restaurant two times a week. A little candlelight, dinner, soft music, and dancing. She goes Tuesdays, I go Fridays."
— Henny Youngman
8 Good Morning Quotes for Fabulous Friday
"Friday. The golden child of the weekdays. The superhero of the workweek. The welcome wagon to the weekend." 
– Unknown
 "It's Friday morning mankind! Good vibe, don't frown and let the monster see you smile!" 
– Napz Cherub Pellazo
"Dear Friday, I'm so glad we are back together. I'm sorry you had to see me with Mon–Thurs, but I swear I was thinking of you the whole time." 
— Anonymous
"Thank god it is Friday! Just one more day of work and then a weekend full of relaxation! Good morning and have a happy Friday!" 
— Anonymous
"Wishing you a very good morning and a fabulous Friday ahead!"
— Anonymous
"May this Friday be a constructive one so you can relax for the rest of the week. Good morning and have a wonderful day ahead." 
— Anonymous
"Friday has just begun and it will soon be over as well. Make sure that you make it count and do something wonderful today!" 
— Anonymous
"Welcome to Friday. In preparation for takeoff, please ensure all negative attitudes are properly stowed. On behalf of your captain, Jack Daniels and myself, welcome aboard. I expect sunshine and good attitudes today for our trip. Enjoy the ride."
— Unknown
9 Inspirational Quotes for Friday Afternoon
"I've taught fifth-year Christmas leavers last thing on a Friday afternoon. Basically, if you can face that you can face anything." 
– Johann Lamont
"Friday is a day to finish your goals for the week. It is a day to celebrate that which you set out to accomplish at the beginning of the week. Well done."
— Byron Pulsifer
"How do you know it's Friday? Look at everyone around you counting down the seconds until the weekend starts." 
— Unknown
"At the end of each day write down on a calendar the best thing that happened to you that day."
— Brenda Shoshann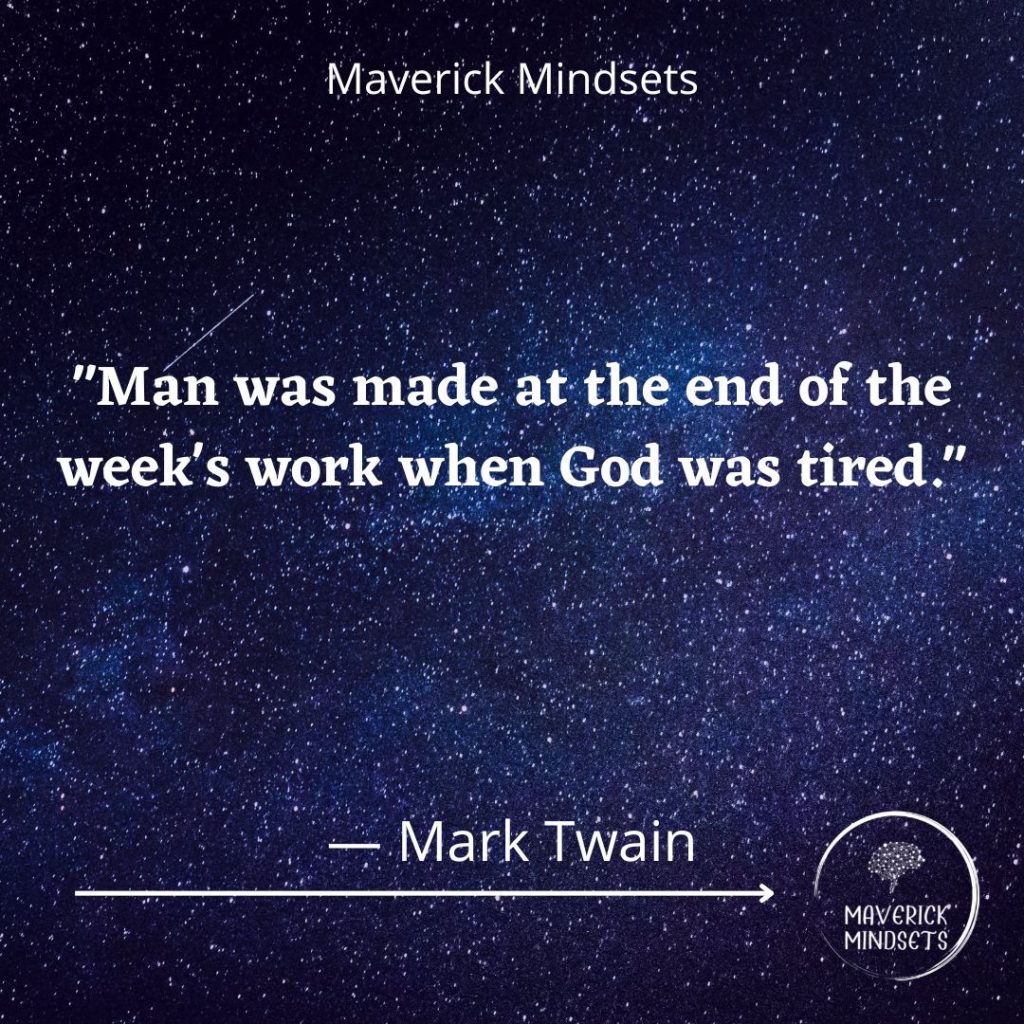 "When you leave work on Friday, leave work. Don't let technology follow you throughout your weekend (answering text messages and emails) take a break, you will be more refreshed to begin the workweek if you have had a break." 
— Catherine Pulsifer
"For most Americans, Friday afternoons are filled with positive anticipation of the weekend. In Washington, it's where government officials dump stories they want to bury." 
— John Sununu
"Without the weekend, where would the week be?" 
— Anthony T. Hincks
"It's 4:58 on Friday afternoon. Do you know where your margarita is?"
— Amy Neftzger
"Friday afternoon feels like heaven…"
— El Fuego
12 Motivational Quotes for Friday Night
"Life begins on Friday night."
— Unknown
"Youth is like a long weekend on Friday night. Middle age is like a long weekend on Monday afternoon."
— Richard Nelson Bolles
"Who cares about Thursday's happy hour when Friday is upon us?"
– Unknown
"When he worked, he really worked. But when he played, he really PLAYED."
— Dr. Seuss
"I am always happy to meet my friend, and my friend is my weekend." 
— Debasish Mridha
"Not for nothing is their motto TGIF – 'Thank God It's Friday.' They live for the weekends, when they can go do what they really want to do." 
— Richard Nelson Bolles
"Making food is a wonderful way to spend a Friday night."
— Chrissy Teigen
"You know you're doing what you love when Sunday nights feel the same as Friday nights."
— Donny Deutsch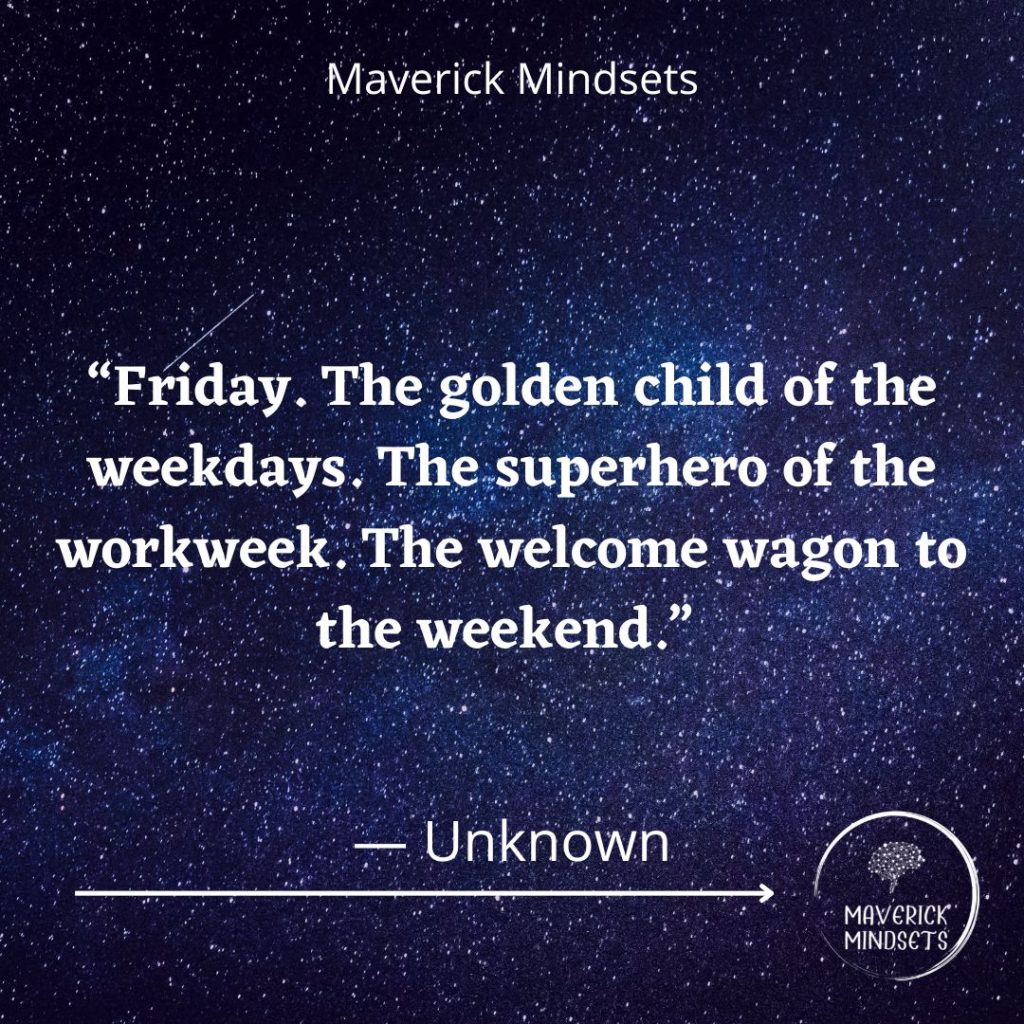 "Weekends welcome warriors for social fun that starts on Friday evening." 
— David Chiles
"It's time to embrace the crazy beautiful mess that you are because it's almost the weekend."
— Lauren Oliver 
"Music always sounds better on Friday."
— Lou Brutus
"Tonight's forecast: 99% chance of wine." 
—  Anonymous
"The best career choice you can make is one in which you hate to see Friday come because you love your work."
— Catherine Pulsifer
"I know ya don't smoke weed, I know this. But I'm gonna get you high today cause it's Friday, you ain't got no job and you ain't got shit to do."
— Smokey
"Today was good. Today was fun. Tomorrow is another one." 
— Dr. Seuss
"The only reason why we ask other people how their weekend was is so we can tell them about our own weekend." 
— Chuck Palahniuk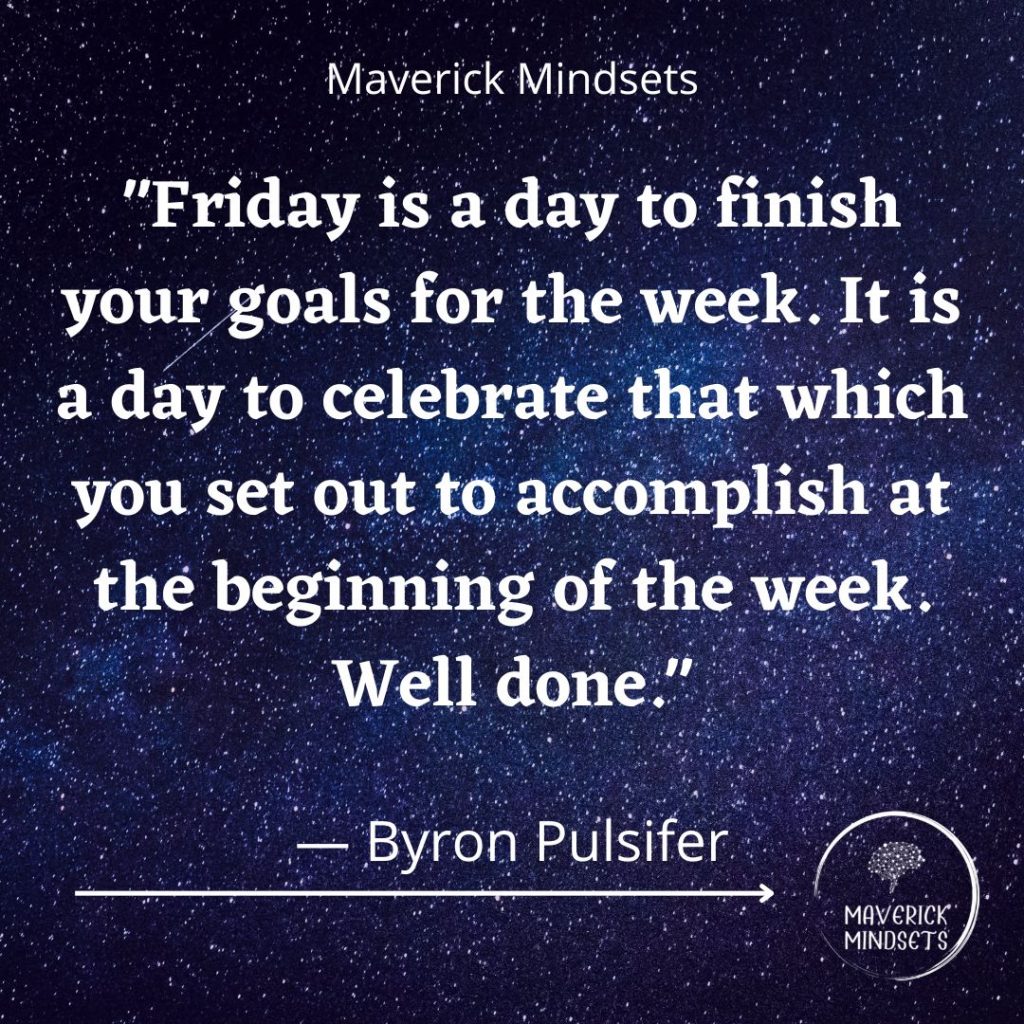 "It is bad luck to fall out of a thirteenth story window on Friday."
— American Proverb
"Waking up on Black Friday morning and grabbing a hot drink with a sweet friend." 
— Unknown
"I haven't been so excited about Friday since last Friday."
— Unknown
"Make each day of the week like Friday and your life will take on new enthusiasm."
– Byron Pulsifer
7 Quotes from Famous People
"I have to be alone very often. I'd be quite happy if I spent from Saturday night until Monday morning alone in my apartment. That's how I refuel."
— Audrey Hepburn
"I never have written every day. When I'm writing a book, I write Monday through Friday. I always try to take Saturday and pretend to have some sanity."
— Maya Angelou
"Mondays are a good day to make statements, not Friday."
— Ernie Els
"People wait all week for Friday, all year for summer, all life for happiness."
— Raimonda.B
"I enjoy life when things are happening. I don't care if it's good things or bad things. That means you're alive." 
― Joan Rivers
"Optimism is a happiness magnet. If you stay positive, good things and good people will be drawn to you." 
– Mary Lou Retton
"To be honest, when I'm home, every day is a Friday for me. It doesn't really matter what day it is for me. A lot of my friends actually have time off during the week, and so it doesn't prohibit me from enjoying myself when I am home on a Monday or a Tuesday."
— Danica Patrick
Saturday Quotes For Th Perfect Day Good morning Saturday, the weekend is here, and we have some great motivational Saturday quotes to keep you motivated.
Read More »
The Best Funny Monday Quotes And Sayings The start of a new week might not have you filled with joy, but this powerful collection of
Read More »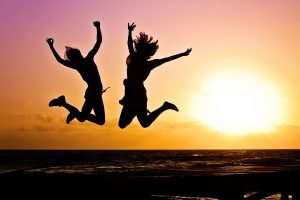 TGIF Great Quotes for the Best Day Of The Week The upcoming weekend is almost here and there's no day like a Friday! After five
Read More »
Fitness Quotes That Will Get You Going Motivational quotes offer you the best words of encouragement imaginable. Whether this is your first step towards a
Read More »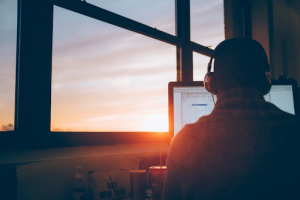 Quotes For A Positive Wednesday At Work We get it. Wednesday morning can suck. But the only thing standing between you and a wonderful Wednesday
Read More »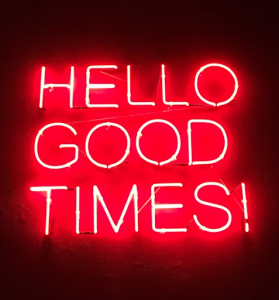 Monday Quotes To Make Every Week Positive These positive Monday quotes are without question the best way to ditch the Monday blues and smash your
Read More »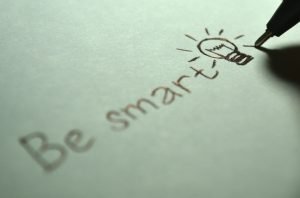 motivational mindset Monday quotes It's no secret that Monday is for many, the hardest day of the week by far, which is why you need
Read More »