Share Your Love With 50 Powerful Mother's Day Quotes
Dive into the 50 best Happy Mother's Day quotes to celebrate all that is great about the bond between Mother and child!
Show your Mom just how much you care with the perfect Mother's Day quote, a gift that your Mom can enjoy time and again, all year round.
Below, we have compiled loving, passionate, inspirational, caring and even funny quotes to capture everything that is perfect about your Mother – enjoy!
11 Inspirational Mother's Day Quotes
"The very fact that you worry about being a good mom means that you already are one.
— Jodi Picoult
"Mothers are like buttons. They hold everything together"
— Unknown
"There's a reason some people think they can achieve anything. They listened to their mother."
— Unknown
"An ounce of mother is worth a ton of priest."
— Spanish Proverb
"A mother's arms are made of tenderness and children sleep soundly in them."
— Victor Hugo
"There's no way to be a perfect mother and a million ways to be a good one."
— Jill Churchill
"The influence of a mother in the lives of her children is beyond calculation."
— James E. Faust
"A mother's love endures through all."
— Washington Irving
"It may be possible to gild pure gold but who can make his mother more beautiful?"
— Mahatma Gandhi
"Mother is the name for God in the lips and hearts of little children."
— William Makepeace Thackeray
"Most mothers are instinctive philosophers."
― Harriet Beecher Stowe
7 Funny Mother's Day Quotes
"Whatever else is unsure in this stinking dunghill of a world a mother's love is not." 
— James Joyce 
"It's a funny thing about mothers… Even when their own child is the most disgusting little blister you could ever imagine, they still think that he or she is wonderful." 
— Roald Dahl
"Your heart feels like it's outside your body and you're too old to drink the feelings away like you used to." 
— Amy Schumer
"I want my children to have all the things I couldn't afford. Then I want to move in with them."
— Phyllis Diller
"Raising kids is a walk in the park. Jurassic Park."
— Author Unknown
"If evolution really works, how come mothers only have two hands?"
— Milton Berle
"When my kids become wild and unruly, I use a nice, safe playpen. When they're finished, I climb out."
— Erma Bombeck
9 Loving Mother-Son Quotes
"My mother was the most beautiful woman I ever saw. All I am I owe to my mother. I attribute all my success in life to the moral, intellectual and physical education I received from her." 
— George Washington
"All that I am, or hope to be, I owe to my angel mother." 
— Abraham Lincoln
"My mother had a great deal of trouble with me, but I think she enjoyed it." 
— Mark Twain
"Life began with waking up and loving my mother's face." 
— George Eliot
"Mama was my greatest teacher, a teacher of compassion, love and fearlessness. If love is sweet as a flower, then my mother is that sweet flower of love." 
— Stevie Wonder
"My mother is my root, my foundation. She planted the seed that I base my life on, and that is the belief that the ability to achieve starts in your mind." 
— Michael Jordan
"My mother was the one constant in my life. When I think about my mom raising me alone when she was 20, and working and paying the bills, and, you know, trying to pursue your own dreams, I think is a feat that is unmatched." 
— Barack Obama
"You can feel when your mom's proud of you. You can feel the love." 
— Jimmy Fallon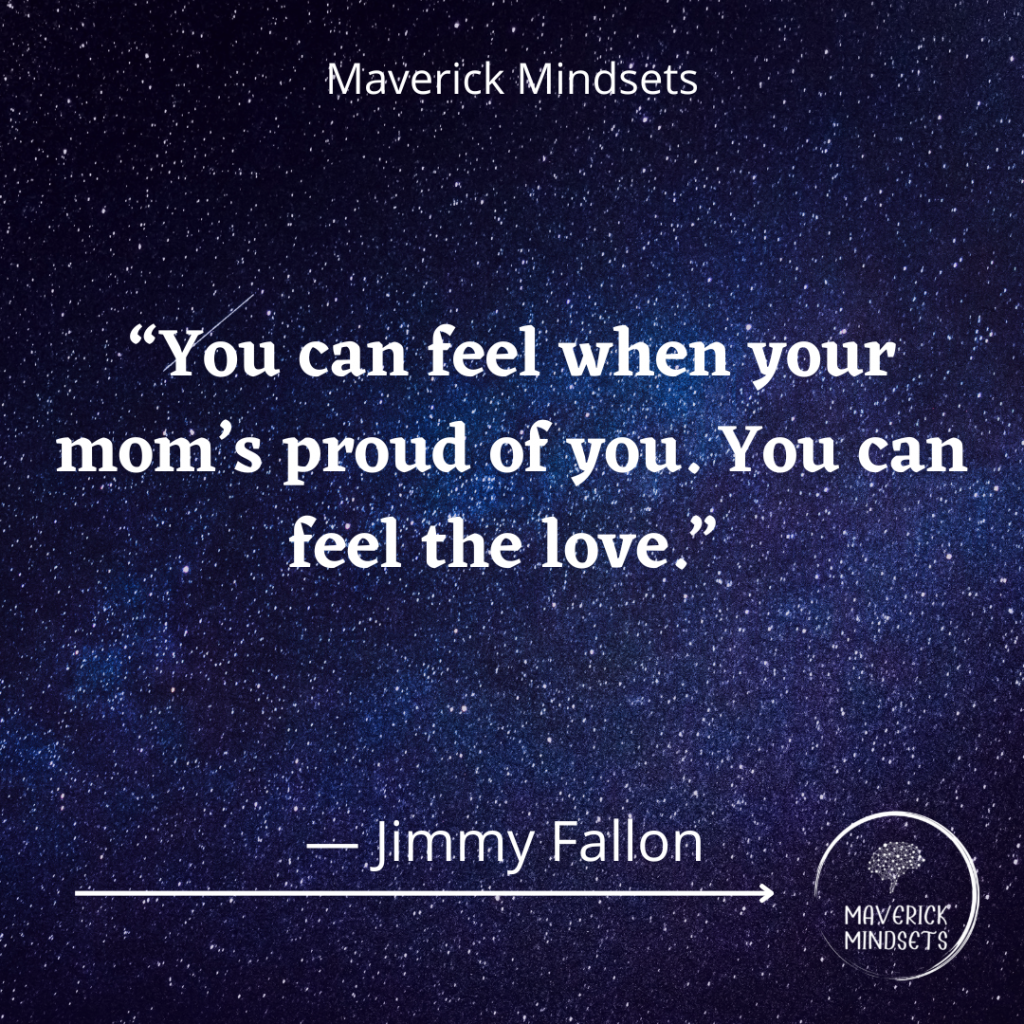 "My mother is a walking miracle."
—  Leonardo DiCaprio
"Youth fades, love droops, the leaves of friendship fall; A mother's secret hope outlives them all." 
— Oliver Wendell Holmes Sr.
"God could not be everywhere and therefore he made mothers." 
"I don't know what it is about food your mother makes for you, especially when it's something that anyone can make — pancakes, meat loaf, tuna salad — but it carries a certain taste of memory." 
— Mitch Albom
"The only love that I really believe in is a mother's love for her children." 
— Karl Lagerfeld
"Motherhood: All love begins and ends there." 
— Robert Browning
"The heart of a mother is a deep abyss at the bottom of which you will always find forgiveness." 
— Honore de Balzac
"When you look into your mother's eyes, you know that is the purest love you can find on this earth." 
— Mitch Albom
"Biology is the least of what makes someone a mother." 
— Oprah Winfrey
"The natural state of motherhood is unselfishness." 
— Jessica Lange
"All women become like their mothers. That is their tragedy. No man does. That's his." 
— Oscar Wilde 
"To the world you may be one person; but to one person you may be the world." 
— Dr. Seuss
12 Beautiful Quotes From Famous Mothers
"When you are a mother, you are never really alone in your thoughts. A mother always has to think twice, once for herself and once for her child." 
— Sophia Loren
"That strong mother doesn't tell her cub, "Son, stay weak so the wolves can get you." She says, "Toughen up, this is reality we are living in." 
— Lauryn Hill
"If I were asked to define Motherhood. I would have defined it as Love in its purest form. Unconditional Love." 
— Revathi Sankaran
"My mother always taught me to be strong and to never be a victim. Never make excuses. Never expect anyone else to provide for me things I know I can provide for myself." 
— Beyoncé Knowles
"Kids don't stay with you if you do it right. It's the one job where, the better you are, the more surely you won't be needed in the long run." 
— Barbara Kingsolver
"I think my mother taught me what not to do. She put us first, always, sometimes to the detriment of herself. She encouraged me not to do that. She'd say being a good mother isn't all about sacrificing; it's really investing and putting yourself higher on your priority list." 
— Michelle Obama
"A mother's arms are more comforting than anyone else's" 
— Princess Diana
"To describe my mother would be to write about a hurricane in its perfect power." 
— Maya Angelou
"Having children just puts the whole world into perspective. Everything else just disappears." 
— Kate Winslet
"The truth is that no matter how old we are, as long as our mothers are alive, we want our mother." 
— Goldie Hawn
"A mother's love for her child is like nothing else in the world. It knows no law, no pity, it dates all things and crushes down remorselessly all that stands in its path." 
— Agatha Christie
"[Motherhood is] the biggest gamble in the world. It is the glorious life force. It's huge and scary—it's an act of infinite optimism." 
— Gilda Radner
The Best Iron Mike Tyson Quotes Read the best Iron Mike Tyson quotes from the baddest man on the planet. After becoming the youngest world
Read More »