Top 100 Novak Djokovic Quotes
These Novak Djokovic quotes are sure to get you fired up.
Novak Djokovic is a Serbian professional tennis player.
He has been ranked world No. 1 for a record total 380 weeks, finishing as the year-end No. 1 an Open Era record seven times.
10 Best Novak Djokovic Quotes
"We only have one life and one body to care of, and we better do it right. You never know what tomorrow may bring and so we better live this life the best we can and be grateful for everything we have."
"I know that success does not come at once, it is not a thing achieved overnight. It is the result of many, many, many years of working and trying to achieve goals."
"When the last point is done, we are humans. Give your opponent a hug and say, 'great fight,' and that's all."
"… the winner is the one who believes in victory more."
"I think luck falls on not just the brave but also the ones who believe they belong there."
"Tennis is a mental game. Everyone is fit, everyone hits great forehands and backhands."
"I am the greatest tennis player. The other players are like coins in my pocket that I give to a homeless man."
"Pressure is part of what we do. It's always present."
"Each year represents new challenges and obstacles. You have to adjust."
"In my case, I can sincerely say that nothing is impossible… When I was saying I want to be No. 1 of the world, and I was seven or eight years old, most of the people were laughing at me because it seems like I have one percent of chances to do that, and I've done it."
10 Motvational Novak Djokovic Quotes
"In terms of playing ability there is nothing to choose between number one and 100. Instead, it's a question of who believes and who wants it more? Which player is mentally stronger? Which player is going to fight the hardest in the big points? These are the things that determine who is the champion."
"Nothing, nothing, nothing is better than sex, it is what God created us to do."
 "I don't think, that you can always – you can ever – get your game to perfection, you know. Only if you're Federer."
"You have to believe on the court. In the end, it's mental. In these moments against a great champion like Rafa, you have to believe. It's all about stepping in and taking your chances. I always believed, but it's a process of learning."  
"I stopped thinking too much about what could happen and relied on my physical and mental strength to play the right shots at the right time."
"My father believed in me many times more than I believed in myself."
"I'm a happy man, because I am successful in what I do, of course; but what makes me most happy is I have people around me that I love and who love me back. This, for me, is the most important thing. Nobody likes to be alone."
"I am grateful to life. And also to the people who have brought me here. Without them, I could not be where I am now."
"I had to listen to the classical music because it calms me down, calms my nerves down."
"I want the same thing I've wanted since I was 7 years old. I want to be No. 1."
10 Goal Setting Novak Djokovic Quotes
"It is my goal to win every time I play. But on the other hand, I also seek a balance of compassion and respect for the other players. I understand that everyone goes through difficult times, either mentally or physically, to cope with their life, to live the sport."
"In my case, I can sincerely say nothing is impossible."
"It is very important and my success very much depends on the harmony that I feel in my private life. It is essential for me to be happy in my private life. And if it continues, I am able to continue playing tennis." 
"I want to win and I feel that pressure, but my career will not be a disaster if I do not win there. It is a dream to fulfill."  
"I don't like to compare years, honestly. I think every year is a different experience, a different challenge. You grow. You evolve as a person and as a player."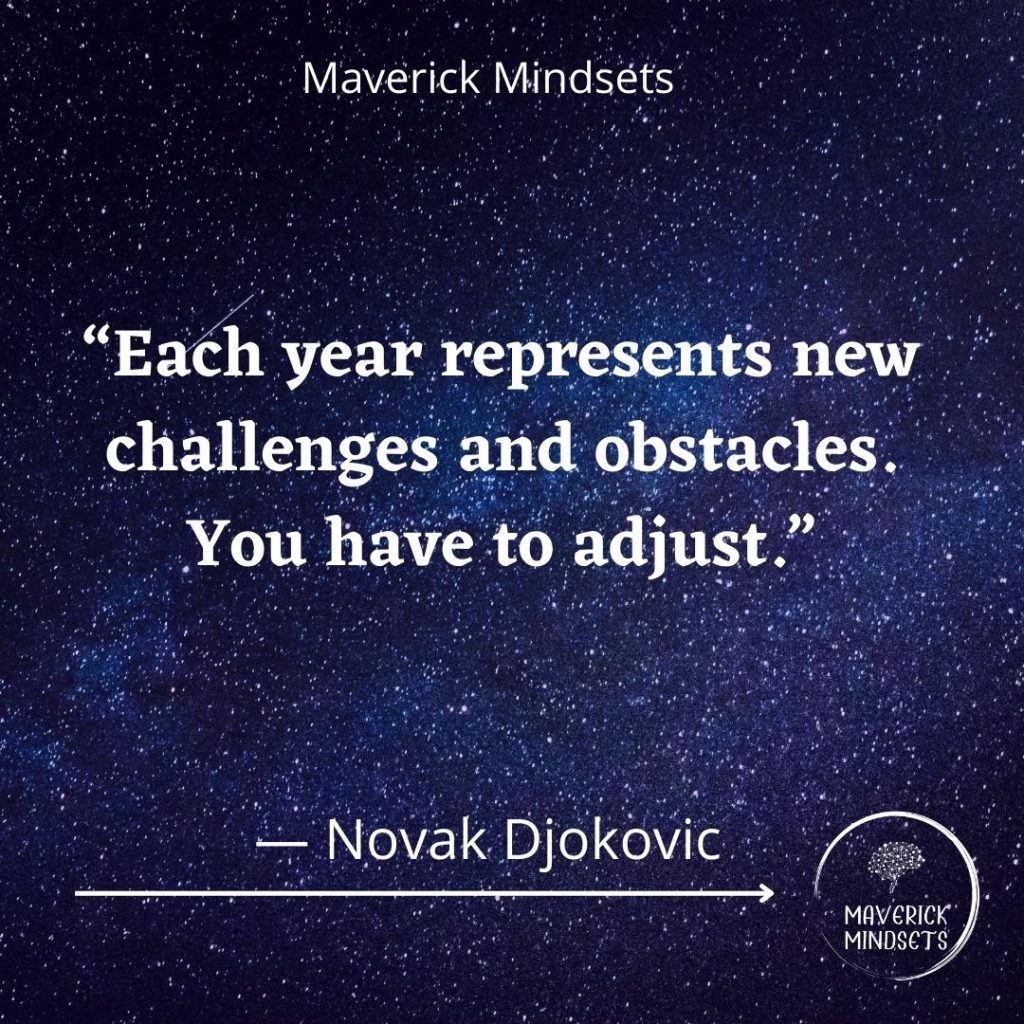 "I try to enjoy what I do, and every moment of the life that I have is a blessing. What else can you do but to be happy and try to bring that joy to the other people around – especially in the tournaments. Everybody has bad days. I'm not always funny or laughing."
"My father had never watched tennis, never liked tennis too much. He said, 'OK, we buy a racket, we watch together,' because we didn't know anything. It was a process of learning together that made it more interesting."
"Joking around is part of my personality, just who I am."
"My priority, the most important thing in my life is my family, my wife and my son."
"Mostly the problems when I was down were caused by myself. There were times when I was not responsible enough or decisive enough."
10 Lifestyle Quotes By Novak Djokovic
"All children have rights and those rights must be protected.
"Those born into poverty or on the margins of society require our extra support to realize their dreams.
"I'm trying not to pay too much attention to the rankings because calculations can distract you.
"I had a unique privilege to have a good start in life and a chance to develop my talents.
"I love football and it's the sport I would really like to play. I've said on national television here that I would really love to play for one of our football clubs when I finished my tennis career."
"Building a solid foundation in the early years of a child's life will not only help him or her reach their full potential but will also result in better societies as a whole."
"Tennis players we're always playing in center courts that feel like arenas. And when we get on the court and the crowd cheers your name or salutes you – it's like you're a gladiator in the arena. And everyone is cheering – and you're fighting, you're screaming, during your strokes – it feels like you're an animal, fighting for your life." 
"Mangling my racket and an odd swearword on the court is not something I am proud of and it shouldn't happen, but even my coaches have told me that it's sometimes better to let it all out, the anger inside you, because keeping it bottled would just eat you up in the long term."
"My mother is a special story. She went through so much to bring us up, four men at home, especially when our country was going through really difficult times."
10 Novak Djokovic Quotes About Family
"I am fast and very powerful on the court, so this is what matters."
"I want to help children in Serbia and around the world so they can realize their dreams."
"Tennis is my life, obviously; I need to focus, I need to win. But it's not the only thing. I'm not going to play forever."
"It's interesting that I had such a close relationship with my grandfather. Because your parents always judge you: they say, 'You shouldn't do this, you shouldn't do that.' But with your grandparents you have a feeling that you can say anything or you can do anything, and they will support you. That's why you have this kind of connection."
"I always try to show my human side to my colleagues and to the whole circuit. More than anything because we are all on the same train, it is part of our work.
You have to consistently be successful to be one of the top players in the world, and everything is possible in life."
"I remember as a kid, I was improvising and making little trophies out of different materials and going in front of the mirror, lifting the trophies and saying 'Nole was the champion!'"
"I got married, going to become father soon, being No. 1 in the sport that I love with all my heart. I mean, it's pretty awesome."
"I lost to a better player who played some courageous tennis and deserved to win."
"You can not say you're unhappy because you have to travel, have to play this tournament, having to play sports … You can't because you chose to play it and you love it. I'm tremendously grateful for the support I have received from my family and the close ones."  
"As a kid I was creative."
10 Novak Djokovic Quotes About Love
"I love being around people who care about me, and I care about them."
"I'm trying to enjoy my lie as much as I can and I know that tennis hopefully is going to be my life the next 10, 15 years."
"I'm very fortunate to have the support of the people around me, I feel happy because my wife helps me and people who are close."
"My father never talked about the sacrifices that the family made for me." 
"Obsession is a negative word, I do not think that obsession can bring positive things. Not only in tennis but, I mean in any situation of life."
"My grandfather went through a lot in his life."
"Even though now I'm pretty popular in my country and tennis is the No. 1 sport, and I'm very flattered that the people recognise me and come up and give me compliments, I'm more a person who likes to have privacy and peace."
"The tradition in Serbia has always been team sports – football, basketball, handball, volleyball and water polo, individual sports are not supported."
"People look up to me as somebody who is able to switch the image of our country from negative to positive."
"I had to know at least two languages."
10 Tennis Quotes From Novak Djokovic
"I physically feel very fit. I'm very motivated to keep on playing on a very high level. I'm going to try to use these years in front of me to fight for the number one of the world and fight for the biggest titles."
"We spent all day travelling, living away from the people you love, not sleep in our own bed … We are far from our own houses. We live in hotels, clubs. And now that I am a father it is much more difficult."
"I don't think there has been enough communication between the players and the tournaments. In one sense it's just as much the players' fault. Players talk between each other and in the locker room about things that can be improved and then when the time comes to talk and really do something about it they stop."
"I like my groundstrokes, I can say. I like it. That's my game – I'm a groundstroke player and I play pretty aggressive."
"The confidence is there, the game is there, but physically you can't fight nature sometimes. You can't do much about it."
"My nutritionist has done a great job in changing my diet after we established I am allergic to things like gluten – I can't eat pizza, pasta and bread. I have lost some weight, but my movement is sharper and I feel great."
"No, I have something else between my legs."
"I embraced, I think, the process of becoming No. 1 of the world, which was long and difficult, but it's sweeter in the end."
"Coaches are very important to players. They're people that are mentors, people that are advising them, people that should be their friends and somebody you can rely on on the tour."
"I haven't been in tennis for that long, but what I can say is that we have a lot of young guys at the top who are willing to do a lot of good things for tennis in general."
10 Hardwork Quotes From Novak Djokovic
"Serbian history tells that family is the most important thing and you have to stick with the family."
"In order to stay where I am – and I want to do that – I have to stay dedicated as well as I have been before I became No. 1."
"My strokes just weren't there."
"Nobody actually played tennis in my family."
"Messi is the best player on the planet and he keeps on improving at Barça, now the best team in the world. What Messi does on and off the pitch is an inspiration for children who dream of becoming a footballer."
"Not everybody can like what I do, and if you feel that somebody is coming up closer to you and starting the rivalry and everything, you maybe change your position to him."
"Imagine a part of the U.S.A., from which the U.S.A. started – where is the cradle of your history? This is Kosovo for Serbia."
"I'm happy, my family's happy, everything is going well." 
"Well, I do feel that I carry the responsibility of representing my country wherever I am, and this responsibility came with the success that I had in last couple of years, not just myself but the whole group of tennis players that comes from Serbia. And athletes in general are, in this moment, the biggest ambassadors that our country has."  
"My success has a lot to do with my private life. I've matured a lot by first becoming a husband and now a father. My life is in the right direction. And that helps a player to thrive. One thing is linked with the other. My private life has helped me."
10 Competitive Quotes From Novak Djokovic
"I think if you do not enjoy your time, your life, if you do not live intensely and do not spend time with your family, in one way or another it will be reflected in your career."
"I had a nice childhood. War and all the experiences affected me as a person and helped me to grow, to change." 
"The fact that nobody played tennis in my family and you'd say by chance they make three tennis courts in front of the restaurant that my family owned when I was 4, I think that's a destiny. That's kind of life circumstances that kind of come together for you to become who you want to become."
"When my boy arrived in this life, on this planet, it was completely a new dimension of experience for me and my wife. I'm still riding on the wave of that experience."
"The history of our country is cruel. We have to face those issues or, should I say, we had to. Not anymore I hope, because we are going in the right direction, and we are ready to forgive, ready to move on."
"What I learned as a young child continues to have a tremendous impact on my life today."
"We have a harder way to succeed in life as Serbs because of the past that we had and because of the history we had."
"It was very unusual for a boy to play tennis in my country."
"It gives me goose bumps and little butterflies in the stomach when I start thinking about the 'golden slam.'"
"I cannot guarantee anything."
10 Winning Quotes By Novak Djokovic
"This time last year I would have said Federer would beat Sampras's record. Now I'm not so sure. His aura has gone. He's not as dominant as he was, and since I beat him in Australia he's looked frustrated. Players are beginning to challenge him now, especially myself and Rafa. He's got 12 Grand Slams to his name and maybe he will beat Sampras, but now I'm here it will be tough for him."
"It has been the best thing that has ever happened in my life."
"I always try to have something that keeps my mind relaxed, keeps my mind a little bit off tennis."
"I have always valued the care for my body, and my mind and had holistic approach to life. I always thought this is utmost importance for my tennis." 
"I always tried to win. I was as competitive as I am today."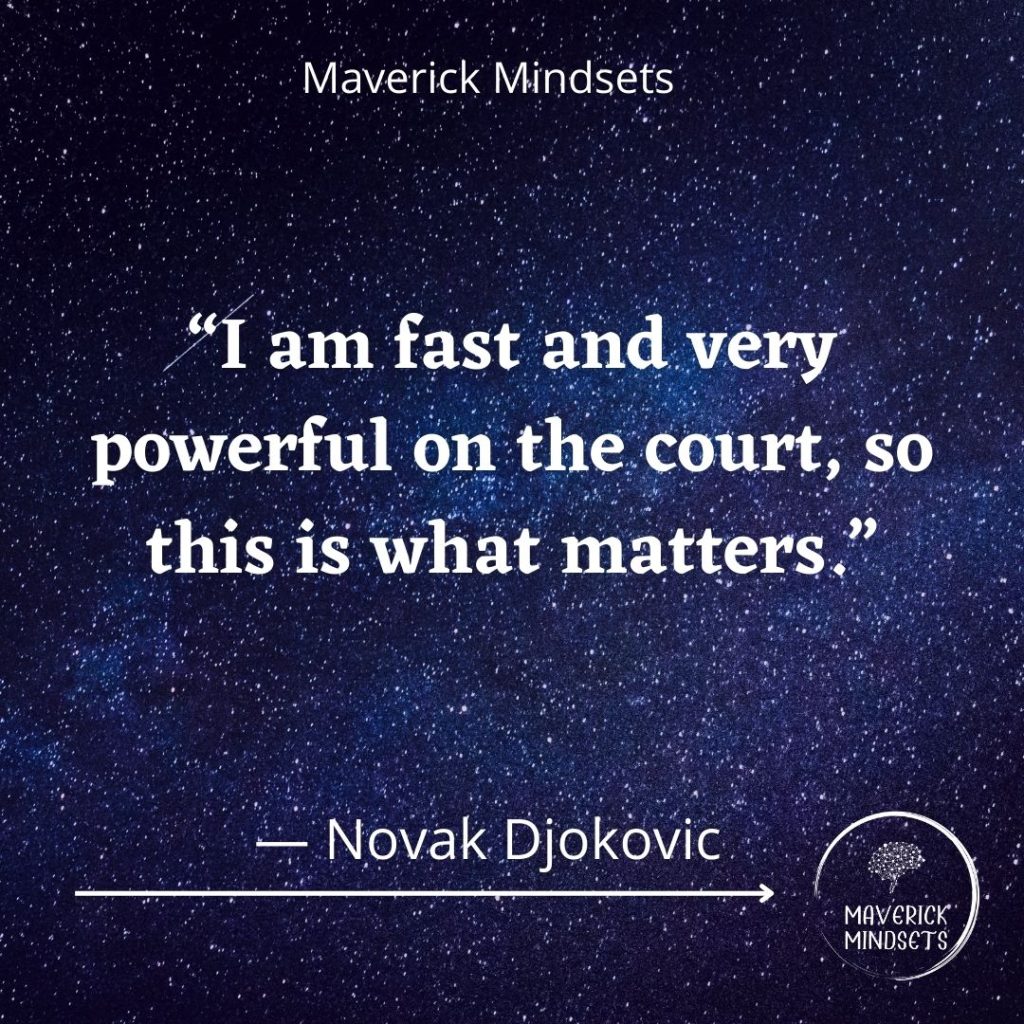 "I always try to adjust to the situation."
"It's always easier if you have the support of your family, if you're not alone. I came from a country that has been through a lot of troubles in the last 20 to 30 years, but we have been through them together." 
"I still feel young as far as motivation is concerned, and also the challenges that I have for the future and what I want to achieve. So I just hope this successful streak is extended to the fullest."
"I never wanted to change countries; it's something that is part of me."
"I understand that the results I've had in my career, or I'm having now, they are very good. And that gives me confidence, of course, but I do not feel invincible."
61 Inspirational George Best Quotes Check out these inspirational George Best quotes. George Best was a legendary footballer who is widely regarded as one of
Read More »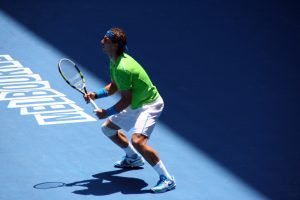 Top 100 Rafael Nadal Quotes (2023) Check out these awesome Rafael Nadal quotes from one of tennis' all time greats. Rafael Nadal is a Spanish
Read More »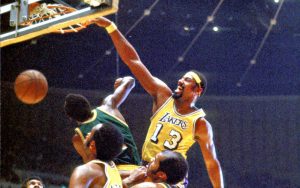 The Ultimate Collection of Wilt chamberlain quotes Keep reading to discover the best Wilt Chamberlain quotes about life, basketball and playing the villain. Wilton Norman
Read More »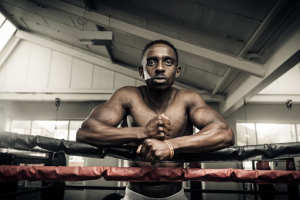 The 113 Best Fighter Quotes Of All Time Fighter quotes are unlike any other motivational quote on the planet – they will light a fire
Read More »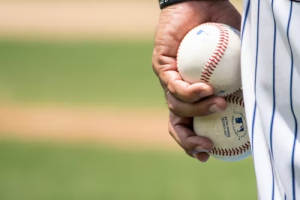 The Top 100 Jackie Robinson Quotes of All Time Jack Roosevelt Robinson was an American professional baseball player and in this article, we pay homage
Read More »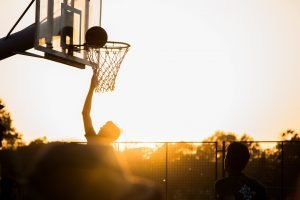 Motivate Your Team With These Basketball Quotes Motivational basketball quotes are some of the most inspiring quotes of all sports. A game of basketball might
Read More »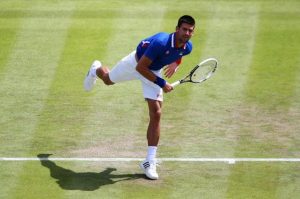 Top 100 Novak Djokovic Quotes These Novak Djokovic quotes are sure to get you fired up. Novak Djokovic is a Serbian professional tennis player. He
Read More »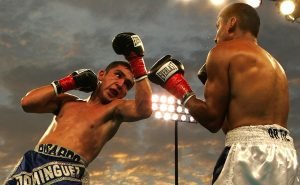 The ultimate fighting quotes collection According to the great Chinese military tactician Sun Tzu; "the supreme art of war is to subdue the enemy without
Read More »
61 Inspirational George Best Quotes Check out these inspirational George Best quotes. George Best was a legendary footballer who is widely regarded as one of
Read More »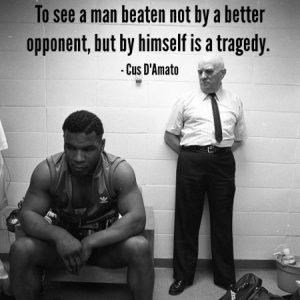 The Best Cus D'Amato Quotes 2023 These Cus D'Amato quotes come from the philosophical giant who was an inspirational and enigmatic figure in the world
Read More »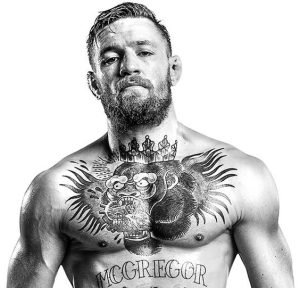 100 Badass Conor McGregor Quotes (2023) ADD TEXT ADD TEXT 10 Most Inspirational Connor McGregor Quotes "The more you seek the uncomfortable, the more you
Read More »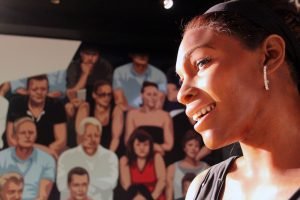 The ultimate collection of Serena Williams quotes Keep reading for the ultimate collection of Serena Williams quotes. Serena Jameka Williams is an American professional tennis
Read More »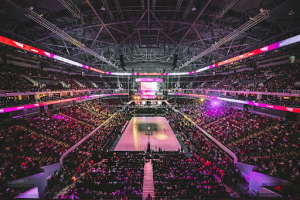 Basketball Quotes from Earvin 'Magic' Johnson We've got the ultimate collection of Magic Johnson quotes just for you. Earvin "Magic" Johnson Jr. is an American
Read More »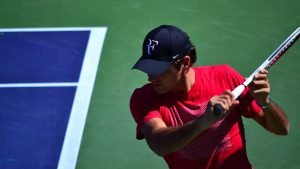 50 Inspiring Quotes From Roger Federer (2023) These motivational Roger Federer quotes are sure to inspire you. Federer is one-third of the 'Big 3' tennis
Read More »
The Best Iron Mike Tyson Quotes Read the best Iron Mike Tyson quotes from the baddest man on the planet. After becoming the youngest world
Read More »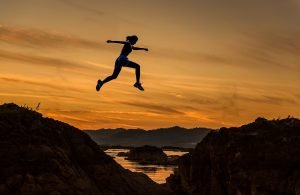 Inspirational Quotes and Bible Verses You might be preparing hard for a big sporting event, needing motivation, or seeking guidance on how to remain humble
Read More »