85 Most Inspirational Usain Bolt Quotes 2023
The awesome Usain Bolt quotes are sure to inspire you to success.
Usain Bolt is a retired Jamaican sprinter, considered to be the greatest sprinter of all time.
He is the world record holder in the 100 metres, 200 metres, and 4 × 100 metres relay.
Not only known for his speed, Bolt is also admired for his cheerful personality and positive mindset.
15 Best Usain Bolt quotes
"There are better starters than me but I'm a strong finisher."
"Easy is not an option..No days off…Never Quit…Be Fearless… Talent you have Naturally… Skill is only developed by hours and hours of work."
"No matter how far you get ahead of me, I'm gonna catch you. That's my mentality that I go there with."
"I remember once, actually the first race I ran, I fell."
"The difference between the impossible and the possible lies in determination."
"I know what I can do so it doesn't bother me what other people think or their opinion on the situation."
"I think a lot of people, they see you run and they say, "Aaah it looks so easy, looks effortless". But before it gets to that point, it's hard; it's hard work. It's day-in, day-out sacrifice. Just DYING this time when you run and you just want to stop, you want to give up, you just want to go home."
"If you're the Olympic champion then they have to wait four more years to get you again."
"I know what to do and I go and execute."
"Don't think about the start of the race, think about the ending."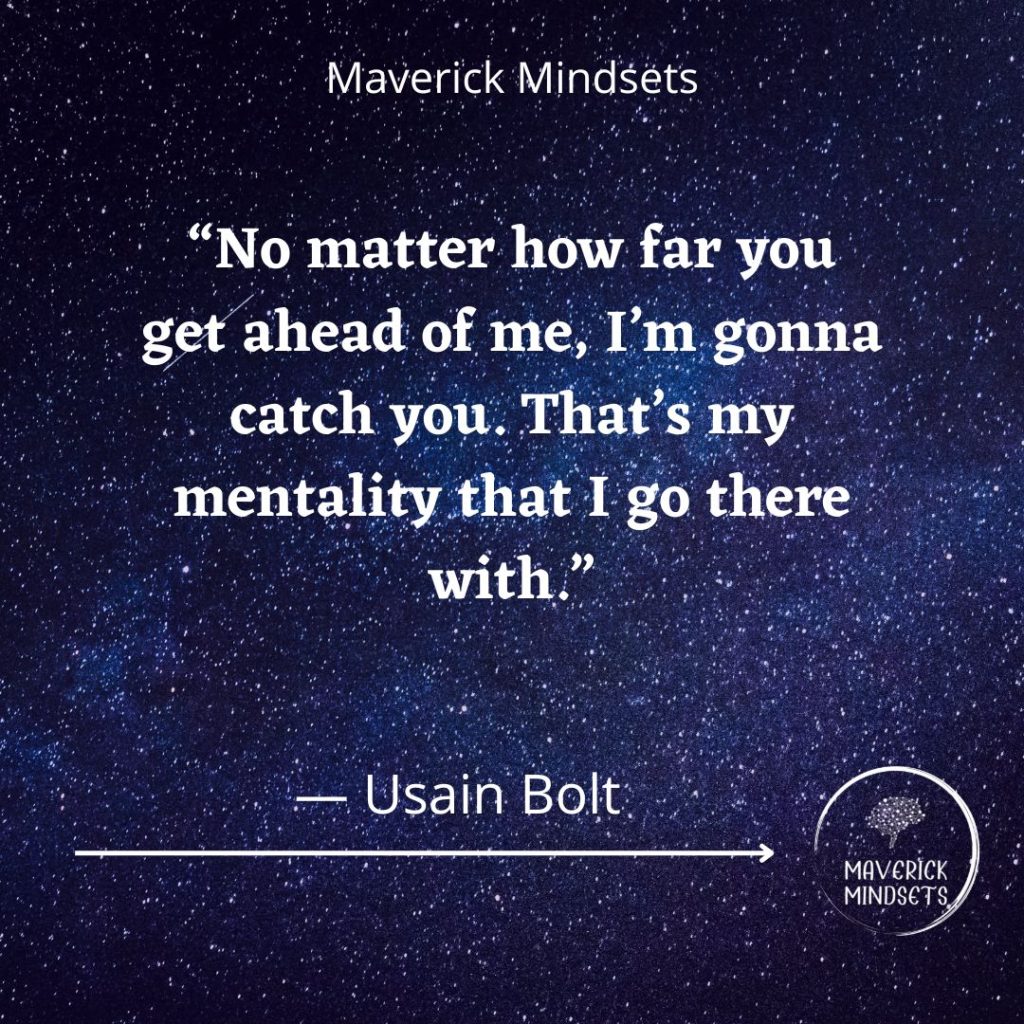 "As long as I'm in great shape, nobody beats me, for sure."
"The three-peat has never been attempted, ever, and for me, I think it will add to my legendary status. I want to become one of the greatest athletes ever to have competed in any sport, so for me, that's what it means."
"When people come to a race, part of it is the anticipation: 'What is he going to do?'"
"Come on… when you're running, if you see you're going to win, you're going to celebrate."
"Train hard, turn up, run your best and the rest will take care of itself."
15 Favorite Usain Bolt Quotes
"I've learned over the years that if you start thinking about the race, it stresses you out a little bit. I just try to relax and think about video games, what I'm gonna do after the race, what I'm gonna do just to chill. Stuff like that to relax a little before the race."
"You have good days and bad days."
"It's a great feat for me to have broken my world record."
"I think they have not learned over the years that the more you talk, the more I will want to beat you."
"Dreams are free. Goals have a cost. While you can daydream for free, goals don't come without a price. Time, Effort, Sacrifice, and Sweat. How will you pay for your goals?"
"In track years… track is not like other sports. You do have track athletes that stay in this sport until, like, 35, 36, but I think when you get to 28, it's really difficult."
"A lot of legends, a lot of people, have come before me. But this is my time."
"My brother is really, really slow."
"There are things that bother me. I try not to let them, but they do."
"Once a year I will clean my room, just because I feel I should."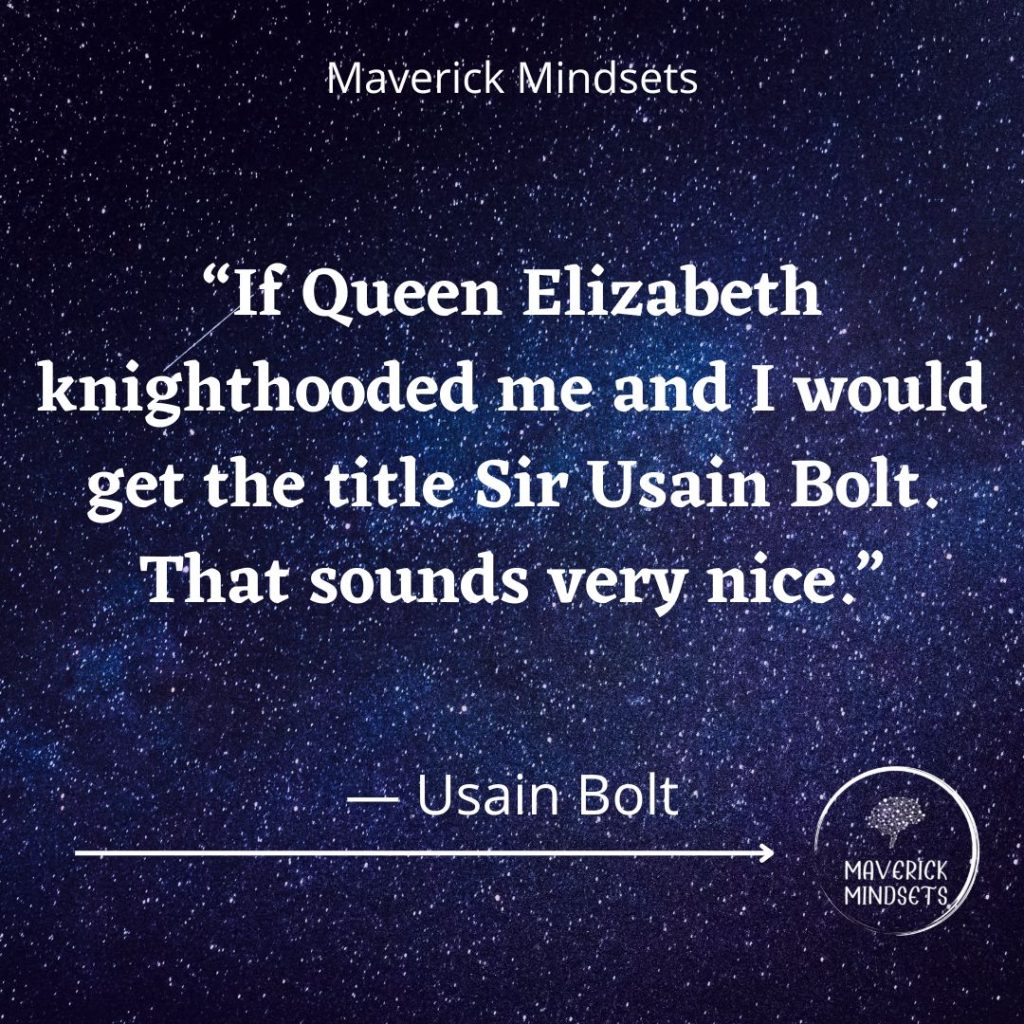 "I don't know the history of my sport. I'm not like those people who know everything."
"My hunger is always there."
"I would rather be lying in a bed than changing one."
"I think my acceleration is very good. That's the key for me."
"Every season, for me, it's like starting from scratch again."
15 Inspirational quotes from the greatest sprinter of all time
"When people see your personality come out, they feel so good, like they actually know who you are."
"IF I GET TO BE A LEGEND, I'VE ACHIEVED MY GOAL."
"I've worked hard over the years, I've been injured and I've worked hard through it, and I've made it."
"Repeating is harder than anything else."
"I was playing cricket first and my cricket coach was the one that introduced me to track and field."
"I wouldn't say I'm a phenomenon, just a great athlete."
"All I have to do is to work on transition and technique."
"People always say I'm a legend, but I'm not. Not until I've defended my Olympic titles. That's when I've decided I'll be a legend."
"My coach told me if I broke the national record for the 200, I could run a 100."
"Yeah, I am lazy. There's no doubt about that."
"If you think about racing too much you may just lose it a little bit."
"I don't like losing anyways."
"People like to see showdowns."
"But anybody who steps into the lane beside you is the biggest competition because they made it to the finals."
"I have dedicated my life to the 200m, I really love the 200m a lot."
10 Motivational Usain Bolt quotes
"I'd like to say to all my fans out there, thanks for the support. And to all my doubters, thank you very much because you guys have also pushed me."
"I will run against anybody."
"I try to lead by example."
"I like to have fun, just stay relaxed."
"For me, I'm focused on what I want to do. I know what I need to do to be a champion, so I'm working on it."
"Manners is the key thing. Say, for instance, when you're growing up, you're walking down the street, you've got to tell everybody good morning. Everybody. You can't pass one person."
"I don't think limits."
"I have matured a lot."
"MY COACH IS PUSHING ME HARDER THAN EVER TO MAKE SURE I STAY AT A GOOD LEVEL."
"My coach keeps telling me to say I'm not going to retire. I should just go through the motions and see what I feel every year and see if I really want to do it, but personally, I want to do it, but my coach says just take your time, don't rush."
15 Personal quotes from Lightning Bolt
"Sometimes you lose sight of what's going on around you."
"I can't watch a Mayweather fight. I don't find it exciting."
"I don't even like to go out onto the streets sometimes because I can't get anything done. People want pictures and autographs all the time."
"I don't read a lot of books."
"Where I'm from, there is no violence, pretty much."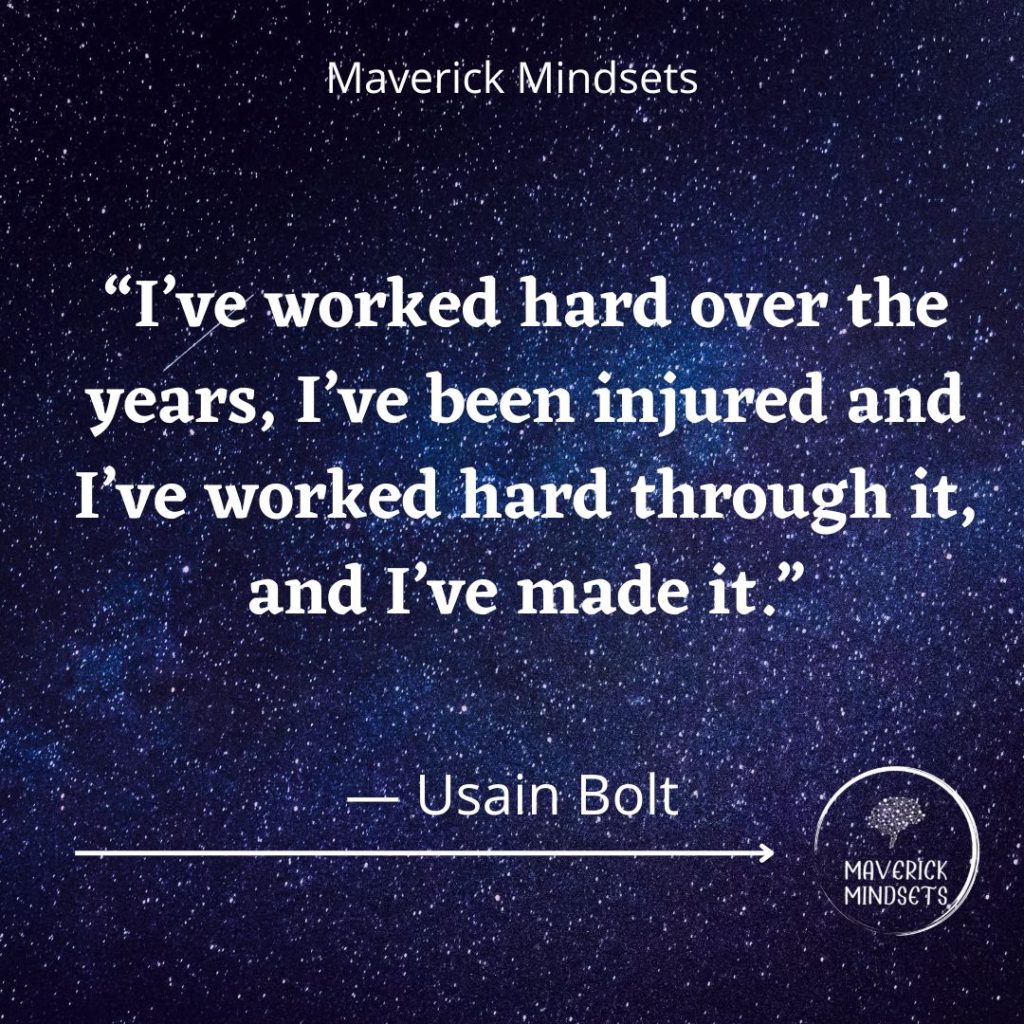 "I like music a lot."
"I can't really live outside Jamaica. I can be away, but only for a while."
"I've tried my hardest to bribe my chef, but my team have been clever and hired someone who not only is not bribeable but who chases me round the house and makes sure I eat what he's cooked, and he lays out my vitamin pills and supplements in front of me so I can't 'forget' to take them."
"I work hard, and I do good, and I'm going to enjoy myself. I'm not going to let you restrict me."
"My name is Bolt, Lightning Bolt."
"I really want to try soccer after I retire because I've watched football over the years and I think I could be a good contender."
"You do not want to get married at 22! Especially if you're famous, because girls are going to be throwing themselves at you."
"But if I keep my core and back strong, the scoliosis doesn't really bother me."
"I just imagine all the other runners are big spiders, and then I get super scared."
"I think the key thing is to train hard and you definitely need competition, you definitely need races because I believe over the years that training helps you but you have to compete against other people who're a higher level to build you up, make you know what else you need to work on."
15 Famous quotes from Usain Bolt
"If Queen Elizabeth knighthooded me and I would get the title Sir Usain Bolt. That sounds very nice."
"I really don't have a favorite meal. I eat anything."
"The 100m is never stressful."
"Learning the mind is as important as understanding the body."
"For some reason, when I get to the 200m, I'm always a little bit nervous."
"My relationship with everyone in Jamaica is good."
"It's always a wake-up call to get beaten."
"I just love dancing."
"I don't put myself under pressure."
"When I was younger, I always wanted to impress, to be good for my country, to make them feel good, and sometimes that meant I didn't focus on myself enough. I learned I had to put myself first. And it's fine because I want for me the same thing that they want for me, which is to win."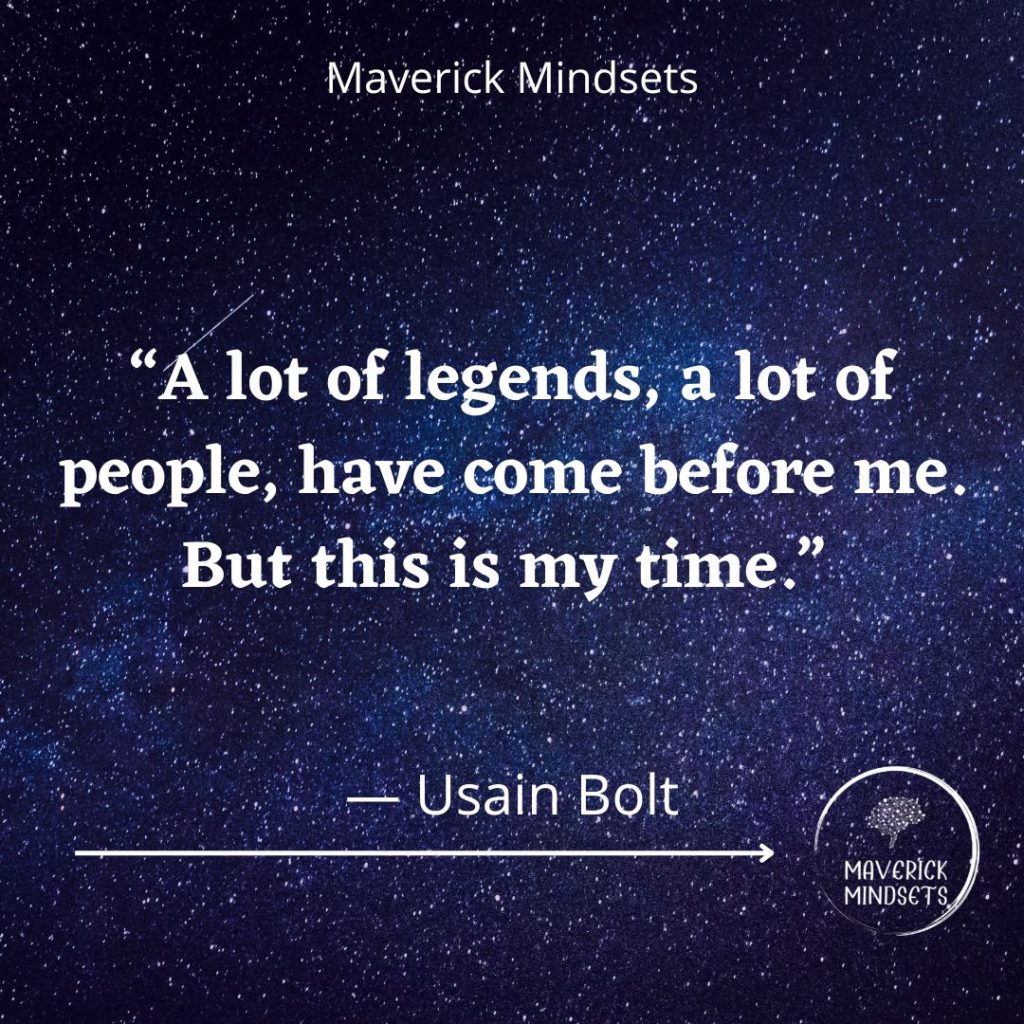 "I don't think about records."
"You can get beat any day."
"I definitely know I'm going to be working a lot more with my foundation when it comes to developing the kids in Jamaica."
"Kill them with success and bury them with a smile."
"I told you all I was going to be number one, and I did just that."
Top 100 NBA Quotes 2023 The National Basketball Association (NBA) stands as the premier professional basketball league globally, captivating fans with its electrifying displays of
Read More »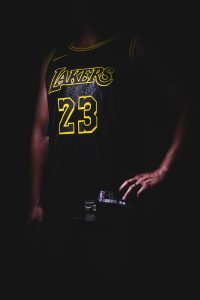 The MostInspirational Lebron James Quotes Of All Time Check out these awesome LeBron James Quotes from the king of the NBA. LeBron Raymone James Sr.
Read More »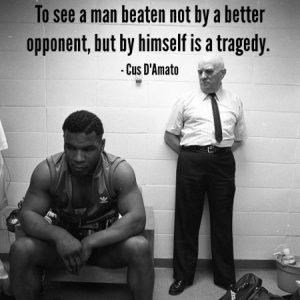 The Best Cus D'Amato Quotes 2023 These Cus D'Amato quotes come from the philosophical giant who was an inspirational and enigmatic figure in the world
Read More »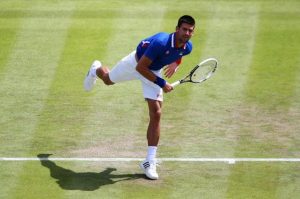 Top 100 Novak Djokovic Quotes These Novak Djokovic quotes are sure to get you fired up. Novak Djokovic is a Serbian professional tennis player. He
Read More »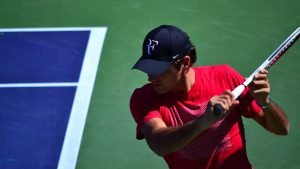 50 Inspiring Quotes From Roger Federer (2023) These motivational Roger Federer quotes are sure to inspire you. Federer is one-third of the 'Big 3' tennis
Read More »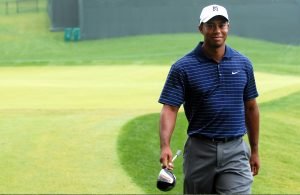 Ultimate Motivational Tiger Woods Quotes If you want some inspiration from the lord of golf then check out these fantastic Tiger Woods quotes. Tiger Woods,
Read More »
Top 100 NBA Quotes 2023 The National Basketball Association (NBA) stands as the premier professional basketball league globally, captivating fans with its electrifying displays of
Read More »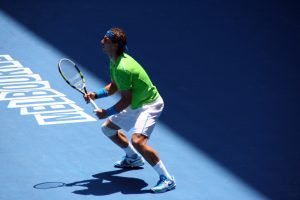 Top 100 Rafael Nadal Quotes (2023) Check out these awesome Rafael Nadal quotes from one of tennis' all time greats. Rafael Nadal is a Spanish
Read More »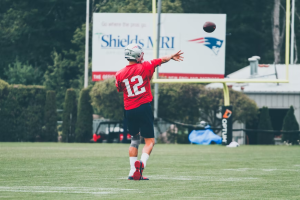 105 Motivational Quotes By Tom Brady Why would you want to read Tom Brady quotes? Thomas Edward Patrick brady jr. is an American Football quarterback
Read More »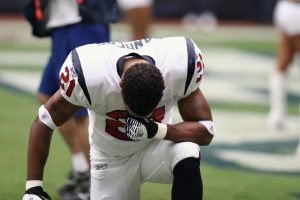 Top 50 NFL Quotes (2023) The National Football League (NFL) stands as a symbol of gridiron glory and American sporting excellence and these powerful NFL
Read More »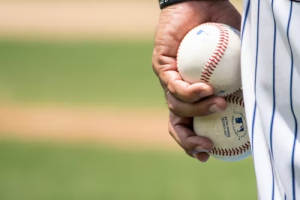 The Top 100 Jackie Robinson Quotes of All Time Jack Roosevelt Robinson was an American professional baseball player and in this article, we pay homage
Read More »
The Best Iron Mike Tyson Quotes Read the best Iron Mike Tyson quotes from the baddest man on the planet. After becoming the youngest world
Read More »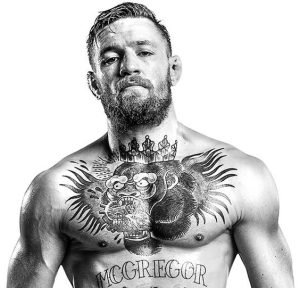 100 Badass Conor McGregor Quotes (2023) ADD TEXT ADD TEXT 10 Most Inspirational Connor McGregor Quotes "The more you seek the uncomfortable, the more you
Read More »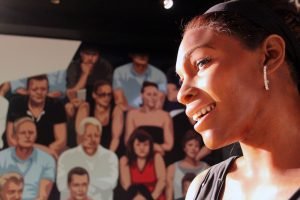 The ultimate collection of Serena Williams quotes Keep reading for the ultimate collection of Serena Williams quotes. Serena Jameka Williams is an American professional tennis
Read More »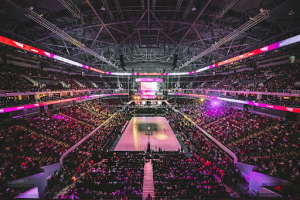 Basketball Quotes from Earvin 'Magic' Johnson We've got the ultimate collection of Magic Johnson quotes just for you. Earvin "Magic" Johnson Jr. is an American
Read More »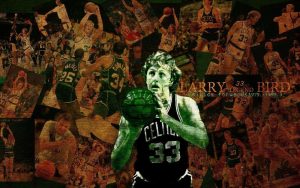 The Ultimate collection of Larry Bird quotes Larry Joe Bird nicknamed "the Hick from French Lick" and "Larry Legend," is an American retired professional basketball
Read More »